"Catching up has never been this easy. See who's available and effortlessly join one-on-one and group calls. Never play phone tag or make an appointment to call someone again. Keep in touch more, think about it less. Any time you're free to talk, Catchup!
Facebook on Tuesday released a group voice-call app called Catchup. The experimental app aims to make coordinating phone calls with up to eight friends and relatives a little easier. "Messaging and video calling are great ways to send a quick update or connect with someone," product lead Nikki Shah wrote in a blog announcement. "But speaking to someone over the phone offers a unique balance of both convenience and personal connection."
Video chats are really having a moment of huge growth right now. But whether you're still sporting bed head, on the move, or running low on monthly data allowance, not everyone wants (or can afford) face-to-virtual-face contact. Enter Catchup.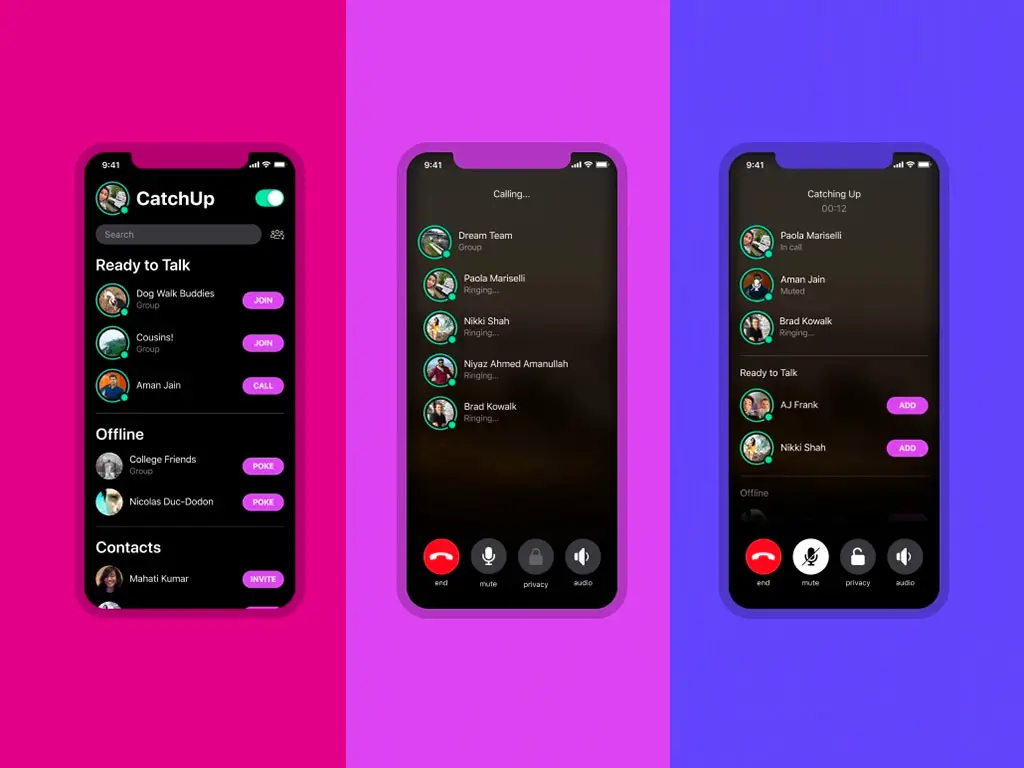 "Based on our studies, we found that one of the main reasons people don't call friends and family more frequently is that they don't know when they are available to talk or are worried they may reach them at an inconvenient time," according to Shah. "Catchup addresses this the problem, and even makes group calling as easy as one tap. It's another way for people to connect – but of course, you can already call people through Messenger anyway, with the added option of using video as well, if you so choose.
As such, CatchUp's only functional addition over Messenger is that you can see when people are specifically available for an audio chat. As such it doesn't seem like it provides enough features for a separate app, which you and your contacts will need to each download in order for it to be of any real necessity.
Although there are already easy ways to make voice calls using Facebook's WhatsApp and Messenger apps, CatchUp users don't need an existing Facebook account. The app is designed to work with your phone's contact list. CatchUp is available for iOS and Android users in the US.